Biography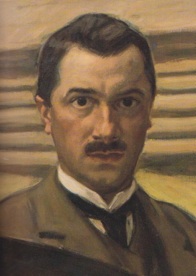 Egger-Lienz in a Self-Portrait of 1911
Albin Egger-Lienz was born Ingenuin Albuin Troja on January 29, 1868 in Stribach, Lienz in East Tyrol. He was the illegitimate child of church painter/photographer Georg Egger-Lienz and Maria Troja, a farmer's daughter.
Egger-Lienz was first instructed in drawing and painting by his father. Later he studied under Hugo Engl, a student of Franz Defregger.  Egger-Lienz became friends with Defregger and his early work depicting scenes of  Tyrolean peasant life clearly indicate Defregger's influence. 
Between 1884 -1893 Egger-Lienz studied at the Academy of Fine Arts in Munich under Karl Raupp, Gabriel von Hackl and Wilhelm Lindenschmit. In 1894 he produced his first major painting titled Ave. He  remained in Munich for five more years, spending summers in Tirol. In 1899 he married Laura von Möllwald and moved to Vienna where he became a member, and later, vice president at the Künstlerhaus.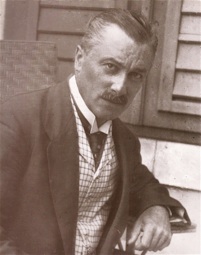 Albin Egger-Lienz
His daughter Lorli was born in 1900 and a son, Manfred, followed in 1903. At this stage of his life he was able to travel. He spent extended periods in Ötztal, a region that inspired him and to which he repeatedly returned. Egger-Lienz's peasant life motif continued to be his overriding theme; his artworks began to grow in size. Strong contrasts and plasticity characterize his work.
Between 1908 - 1910 Albin Egger-Lienz was a member of the Vienna Secession. An expected professorial appointment at the Academy of Fine Arts in Vienna was prevented by Franz Ferdinand who was then heir to the Austrian-Hungarian throne. Disappointed, he returned to Hall in Tirol where, in 1912, he began teaching at the Academy of Fine Arts in Weimar. Among his students were Rudolf Wacker. After 15 months he moved to the Grünwaldhof in St. Justina near Bolzano. Around this time his daughter Ila was born. A meeting with painter Ferdinand Hodler proved important to Albin Egger-Lienz. Hodler's influence can be seen in two of his paintings from this period:  Leben (Life) and Totentanz (The Dance of Death).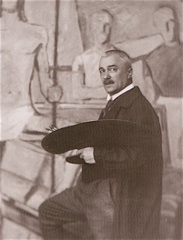 Egger-Lienz in his Studio
In 1915, the painter was drafted. After one month he was assigned to the Welfare office where he served, in civilian clothes, as artistic adviser. His wartime experience profoundly affected Egger-Lienz's work. He created monumental images of war titled The Nameless, War Women, and Final.
The war theme continued to preoccupy him until the end of his life. These works are considered haunting memorials against the horrors of battle and violence. Existential questions about life and death appear throughout his entire oeuvre.
Even after 50 years of age Albin Egger-Lienz sought new forms of expression and experience. He re-visited many of his subject matters and scenes such as Pflüger, Mother, and Resurrection. Twice appointed to the Academy of Fine Arts in Vienna, Egger-Lienz twice declined appointment.
In 1925, he received an honorary doctorate from the City of Innsbruck. He enjoyed great success at the Venice Biennale and was given an exhibition in the Vienna Künstlerhaus.
On November 4, 1926 at the age of 58 Albin Egger-Lienz died from a kidney ailment. He died on Grünwaldhof in St. Justina near Bolzano. He was and remains one of the most important Austrian artists of the early 20th century.